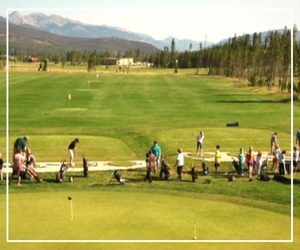 At the Grand Lake Golf Course near beautiful Rocky Mountain National Park and the scenic town of Grand Lake, you can learn to play the game of golf on a serene golf course. For the advanced player, lessons are individual; helping you to improve your score. Whether you need help on your long game or your short game. For the beginner player, education takes you through proper club selection and course strategy to 'The Rules of Golf' and golf etiquette. All ability levels are encouraged to join us to learn the enjoyable game of golf for a lifetime of pleasure and personal gratification.
Don Campbell, PGA Golf Professional/GM
-Graduated with Professional Golf Management degree, New Mexico State University, 1997
-Gathright teaching academy
-TPC certified instructor
Email: donc@grandlakerecreation.com
Phone:970-627-8008
Private Instruction
$25 per 20 min. Tune-Up Lesson
$50 per 1/2-Hour Lesson
$150 On Course Playing Lesson
---

Click Here: Book a Lesson with Jeff
Email: jeffw@grandlakerecreation.com
Phone: 970-627-8008
Private Instruction
30-Minute: $50
45-Minute: $75
1-Hour: $100
Junior 30-Minute: $30
9-Hole Playing Lesson: $150
Lesson Series
Three 45-Minute Lessons: $210 ($70/session)
Five 45-Minute Lessons: $325 ($65/session)
Group Lessons
Every Sunday, 11am-Noon: $25/Student
---
Ted Roberts, Instructor
Contact: tedr@grandlakerecreation.com
Private Instruction
$30.00 per 1/2-hour Lesson
On Course Lessons
$40.00 per Hour
Junior Instruction- Individual lessons available
Adult Group Lessons

Group Lessons meet at the driving range every Thursday at 10am during the summer season. No reservations needed.  Group lessons will begin June 16 and focus on a different technique each week. $25.00 Per Person / Per One-hour Lesson
Junior Instruction
Junior Golf Lessons for children ages 7-17. The Junior Private Lessons available June until the end of the season. Reservations are required; call 970-627-8008 to arrange your private lesson with one of our instructors.
Custom Clinics
Custom Clinics are available. Contact the Golf Shop for information regarding scheduling a custom clinic for your group outing, special event or tournament: 970-627-8008.
Call the Golf  Shop to make your lesson appointments at 970-627-8008.